Trappist-1 Discovery Will Impact Games Like 'Elite Dangerous' and More – Here's How
Are you and aspiring astronomer, maybe just have a fondness for space? In that case, you may have heard the news about Trappist-1. For those who are otherwise unaware, Trappist-1 is an Ultra- Cool dwarf star a whopping distance of 39.5 light years away from our Sun within the constellation Aquarius. On February 22nd of this year, scientists discovered four new exoplanets around the system bringing the total of known planets to seven. The Trappist-1 discovery is interesting sure but what on Earth does it have to do with gaming.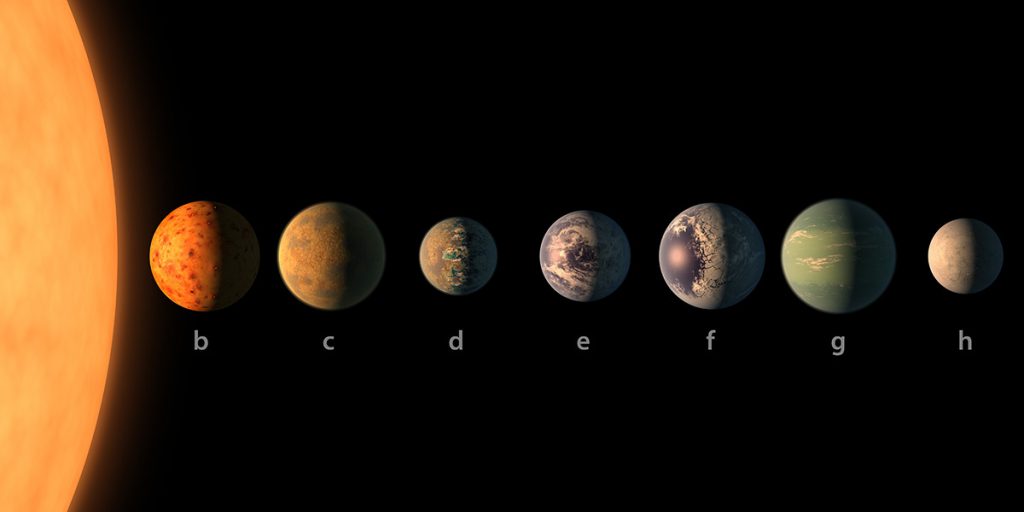 It appears that Frontier Developments, creators of Elite Dangerous, have taken note of this new finding. The game which features space exploration throughout our Milky Way Galaxy uses something they call the Stellar Forge in order to generate star systems and planets.  After multiple forum posts between players asking question about Trappist-1, CEO David Braben of Frontier had some things to say about the discovery:
The recent announcement of the discovery of the Trappist 1 system is exciting. The star, an M8 dwarf red star is right at the bottom end of the M class stars, so faint it is only just visible in the most powerful telescopes, and doesn't feature in most star catalogues for this reason. Luckily, though, the system is almost exactly 'edge on' from our viewpoint – which means it is possible to 'see' the planets as they occlude the tiny star, and an incredible seven terrestrial planets have been spotted around the star by this technique, three of them in the 'habitable zone'.

Even with Hubble, the fainter M class red stars are only just visible at 40 light years, which is why Trappist 1 is not in most of the star catalogues. Beyond this distance we can see ever fewer M class stars – particularly the fainter ones like this M8 – and it is where our procedural generation begins to kick in – supplementing the brighter, more visible stars.
It would appear that astronomers were quite lucky with this find. Essentially, it was the right people looking in the right place at just the right time. Considering how vast space is, that's quite an impressive feat. Braben then goes on to speak of how the Stellar Forge works and what had currently been in the game at the time instead of what we know exists currently:
The way Stellar Forge works is to use 'available mass' from which to generate systems – and because of this unaccounted mass, Stellar Forge has created a system with a Brown Dwarf in very nearly the same place – 39 light years away – this is only a little smaller than an M8 – and it even has seven terrestrial worlds around it – Core Sys Sector XU-P A5-0.

Interestingly the system that came out of Stellar Forge has a couple of moons, and a couple of co-orbiting binary pairs – these things would not (yet) be detected in the occlusion technique, as this is simply detecting the darkening of the stellar disc, but who knows, this might be possible
Oddly enough, the Forge actually generated something quite similar to what we now know actually exists. That has to be pretty exciting for Frontier, the accuracy of their Forge being put to the test must feel like a pretty major accomplishment. Lastly he mentions the tweaks made including one made to the name of the system:
Because of this we have tweaked Stellar Forge with the data from the recent discoveries so that the planets are now the same – and we have renamed it Trappist 1 – but the great thing is it is only a small tweak! We may still add a few moons back in, and this should go live in beta 2, and will of course be in 2.3 when it goes live to everyone.
How cool is that? The gaming world will always be reflected in exciting discoveries and this one particular discovery was huge! In fact, it's quite extraordinary that so little was changed. Other recent and upcoming alterations to the game include the discovery of aliens, a new patch including a character creator, multi- person crews, and more. If you have any thoughts on space or Elite Dangerous send us a comment in the section below. Don't forget to follow Don't Feed the Gamers on Twitter for 24/7 coverage of all things gaming and entertainment.
Known as "Stash" or Yippee Calles. He's a student of everything, avid adrenaline junkie, and creator of random things. When he's not delving into a game, book, or movie - He's out teaching himself new things or taking part in some pretty epic adventures. You can find him on Facebook, Twitter, Instagram and Tumblr.