Rockstar Energy and Destiny 2 – The Partnership That Will Have Your Heart Racing One Way or Another
Destiny 2 made a comeback of a lifetime with the hype that continues to build around its up and coming release, despite the turbulence that surrounded its predecessor. With trailer after trailer, new skills, new challenges, and a story that they promise will be worth the wait – there's a lot to be excited about. Continuing this promotional hype train, the team behind Destiny 2 has just launched their partnership with Rockstar Energy Drinks.
The first Destiny had a similar promotion, but with Red Bull. Unlike last time, there are no spoilers as to what the future may bring but the promotional cans of the popular energy drink are making their rounds and just as is with similar marketing moves, such as Halo with Mountain Dew, each can will come bearing a specific code to be redeemed online. These codes unlock specific gear for the upcoming title, though there is one important thing to note: The cans are becoming available to the public as of now but the codes themselves will not be redeemable until September 1st. See … no spoilers.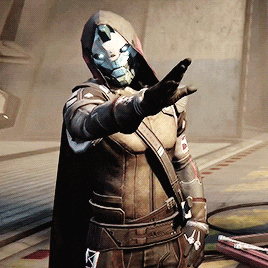 Bungie themselves has remained mum, but those sporting those Destiny 2 cans can look to the official Rockstar Energy Drink support page specific to their Destiny promotional materials. This page gives code-owners the means to create their account, register codes, and read up on frequently asked questions.
Destiny 2 will be launching on the Xbox One and PlayStation 4 on September 6th while its PC counterpart will be a little later, making its arrival date October 24th. Have you taken part in the beta periods yet for Destiny 2? Any thoughts on the upcoming sequel? Sound off with your thoughts in the comment section below, and make sure to follow DFTG on Twitter for gaming and entertainment news live 24/7!
With an arguably unhealthy obsession with Mass Effect, Liana has been an avid collector of gaming and comic memorabilia for well over two decades. With a passion for writing, gaming, and comics - she is currently working as Editor-in-Chief for the revival of Prima Games, with previous managing editor experience with several gaming publications including ComicBook.com, The Hollywood Reporter, TwinGalaxies, and other outlets. She is also the Co-Owner and Managing Editor for DFTG. You can find her on Twitter, Instagram, as well as several Facebook communities online.