Resident Evil 2 Remake Bringing Back Two Most Obscure Characters
Fans of Capcom's second installment in the Resident Evil franchise were delighted to see the remake make an appearance at this year's Electronic Entertainment Expo. The footage, which can be seen here, shows the game's updated visuals that are sure to please fans. However, one(many) question(s) remained: Will Tofu and HUNK return? We now know that the Resident Evil 2 remake will indeed have two of the most obscure characters in franchise history.
In a recent interview, RE2 producer Yoshiaki Hirabayashi confirmed the return of HUNK and Tofu, as well as their respective game modes, in the Resident Evil 2 remake. "Of course! Yes," he said. For the uninitiated, those who completed the 1998 classic were able to access two new game modes: The 4th Survivor and The Tofu Survivor. The latter mode refers to HUNK, who is "the fourth character known to survive Raccoon City's destruction."
After completing both Leon's and Claire's scenarios with an "A" ranking, The 4th Survivor minigame is unlocked. This allowed players to assume the role of HUNK, who is then set into a difficult scenario with a limited inventory. However, it is the parody of this mode, The Tofu Survivor, that is the hardest mission in the game. You are placed in the same scenario as in The 4th Survivor, only instead of HUNK, you are a block of tofu.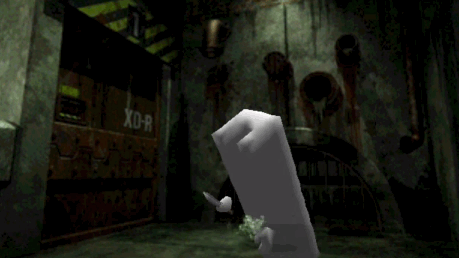 Armed with only a knife and a few herbs, this makes things incredibly difficult for players. Equally challenging is how one unlocks The Tofu Survivor. You must complete "any scenario, or a combination of scenarios of the main game, six times in a row, all in under two and a half hours with a flawless "A" ranking."
It's unclear if the Resident Evil 2 remake will require players to perform exceptionally well at the game in order to unlock the modes, but we can't wait to find out. Resident Evil 2 is set to launch on January 25 for PC, PlayStation 4, and Xbox One. Keep it tuned to Don't Feed the Gamers as this story develops, and for other gaming news going on right now, check out the following:
What say you, gamers? Are you excited for the return of HUNK and Tofu? Will you be picking the Resident Evil 2 remake up on launch day? Sound off in the comments section below, and be sure to follow DFTG on Twitter for live gaming and entertainment news 24/7!
Eric is an editor and writer for Don't Feed the Gamers. When he is not staring at a computer screen filled with text, he is usually staring at a computer screen filled with controllable animations. Today's youth call this gaming. He also likes to shoot things. With a camera, of course.