In the Wake of Losing Carrie Fisher, Fans World-Wide Mourn – Latest Tribute by Kevin Smith is Beautiful
The world was shocked the morning of December 27th as the iconic actress that took Hollywood by storm, Carrie Fisher, passed on from a heart attack. The news was even more shocking, as previous reports stated that she was expected to make a full recovery and was doing "much better". Arguably most known as the 'more-than-meets-the-eye' Princess Leia from the cult classic franchise Star Wars, she was so much more than just one role. She was a role model, a brutally honest advocate for mental illness and being true to yourself. She spoke out against those that spewed hate and she put her entire being into everything she did – no matter what she did.
Among the list of vocal mourners, "Professional Nerd" Kevin Smith (Clerks, Jay and Silent Bob, and more) added his own personal tribute to the song heard world-wide. There was definitely a disturbance in the Force today but Smith said it perfectly when he stated that her "spirit – like the Force – will be with us always." Smith took to his personal social media accounts to pay homage to childhood crush, colleague, and friend:
https://www.instagram.com/p/BOiAvCJDSU0/
Kevin Smith is by far not the only star to give his voice to the collective. Her co-stars such as Mark Hamill, Ridley, Harrison Ford, and many, many more also offered their stories with the beautiful Miss Fisher as well as their condolences to the family.
It is safe to say that 2016 has been a rough year with losing these people, these icons from our childhood – these figure heads that inspired us to chase our dreams or to be more than what others told us we could be. Whether it be with their music, their roles in film, or their "certain somthing" that made that person special to you as a fan – this year took away some truly irreplaceable people from our lives.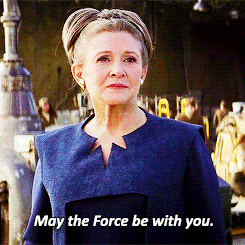 She was an inspiration to so many and the world genuinely lost a beautiful soul on this day:
Stay afraid, but do it anyway. What's important is the action. You don't have to wait to be confident. Just do it and eventually the confidence will follow."
She truly led by example, even in the moments of her life when the media wanted to paint her as less than the wonderful person she was. We here at DFTG are genuinely saddened by her loss and we are sending all of the love and hope that we can to the friends and family suffering from this unexpected turn of events. What was your favourite memory of Carrie Fisher? What role or what about her will always stay with you? Sound off with your wonderful thoughts in the comment section below and keep her family in your thoughts during this difficult time.
With an arguably unhealthy obsession with Mass Effect, Liana has been an avid collector of gaming and comic memorabilia for well over two decades. With a passion for writing, gaming, and comics - she is currently working as Editor-in-Chief for the revival of Prima Games, with previous managing editor experience with several gaming publications including ComicBook.com, The Hollywood Reporter, TwinGalaxies, and other outlets. She is also the Co-Owner and Managing Editor for DFTG. You can find her on Twitter, Instagram, as well as several Facebook communities online.