Hilarious Destiny 2 Teaser Featuring Nathan Fillion Has Us in Stitches (VIDEO)
Destiny 2's official reveal trailer is coming tomorrow, but Bungie couldn't wait to get us pumped. They released a hilarious teaser with our beloved Hunter Vanguard Cayde-6, voiced by Nathan Fillion, telling the tale of that time he was in a "super boring meeting" when they were attacked. When he finishes his story and looks to the barkeep, it becomes obvious that he's drinking on the job while in the middle of battle located at the ruins of the Last City. Seems like fans are getting what they want from Destiny since a common complaint of the first game was that it was much too serious. If Nathan Fillion is featured in this trailer, there's a possibility of his character having a larger role in the sequel, which will bring much more humor to the game. Here is the Destiny 2 teaser below:
Although this Destiny 2 teaser is super funny and gets us really excited for the title, we hope that tomorrow's official trailer will have actual gameplay footage and showcase new features for the latest game. Another complaint that some fans had about the previous installment was that even though it was a beautiful and interesting universe, the game lacked backstory and material. Let us hope that the sequel will have a little more to it and hopefully a way better leveling system than the first one. Oh, and of course, more Cayde-6!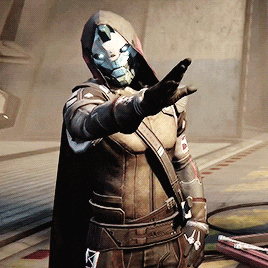 What did you guys think of the hilarious Destiny 2 teaser above? What would you personally like to see in the official trailer that drops tomorrow? Let us know what you think in the comments section below, or start a conversation about it on our Disqus channel. If you're looking for the best Destiny news 24/7, be sure to follow Don't Feed the Gamers on Twitter. Before you go doing that, however, check out this other article about Bungie's official confirmation of Destiny 2.
Our Freelancer Spotlight is a way for our community members to be involved and share what they love with the site! From news, reviews, to cosplay features - it's one of the many ways our community can become even more immersive with DFTG.