Aquaman Solo Film Delayed – Release Date Shifted by a Few Months
Those looking to see actor Jason Momoa (Game of Thrones) in all of his Aquaman glory in the brand new standalone film will have to wait just a smidge big longer. Warner Bros announced that the original October 5th, 2018 date is no longer applicable and that the film is now slated for a December 21st, 2018 date instead.
Luckily, we can still set our eyes on Momoa as the DC hero with his role in the upcoming Justice League film – or you could just re-watch Batman v. Superman: Dawn of Justice for his brief cameo there.  Bear with me, but let's all just take a moment to appreciate this for a second, shall we: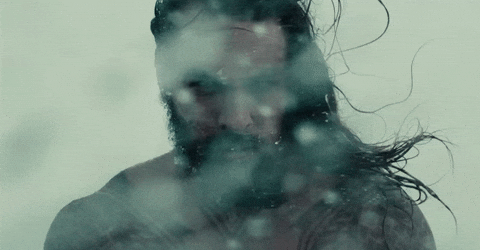 Ok, now that that is out of the way, let's get back on topic. The fact that the studio shimmied the release date to a Christmas holiday release does bode well for the film, it shows their "confidence" in the film – which is great, when you look at how many pitfalls their Batman film keeps facing. Below is the confirmed cast so far:
Jason Momoa – Aquaman
Amber Heard – Mera
Patrick Wilson – Orm/Ocean Master
Temuera Morrison – Thomas Curry
Willem Dafoe – Nuidis Vulko
Yahya Abdul-Mateen II – Black Manta
Nicole Kidman – Atlanna (RUMOR)
Directed by James Wan (The Conjuring, Saw, Insidious), Aquaman could just be the film that breaks this character away from the impressions (and memes) left in the wake of Super Friends. The video game Injustice did a fantastic job of showcasing a more powerful hero and fans everywhere had a positive reaction to seeing his cameo in the previeous Batman v. Superman film. Time will tell, and we'll see him up close and personal this year for Justice League.
Justice League is slated for a Novemeber 17th release this year with the solo Aquaman following suit December 2018. What are your thoughts so far on Aquaman getting his time to shine? Are there any other DC movies you are excited to see in the coming future? Join in on the conversation in the comment section below and don't forget to follow us on Twitter for gaming and entertainment news live 24/7.
With an arguably unhealthy obsession with Mass Effect, Liana has been an avid collector of gaming and comic memorabilia for well over two decades. With a passion for writing, gaming, and comics - she is currently working as Editor-in-Chief for the revival of Prima Games, with previous managing editor experience with several gaming publications including ComicBook.com, The Hollywood Reporter, TwinGalaxies, and other outlets. She is also the Co-Owner and Managing Editor for DFTG. You can find her on Twitter, Instagram, as well as several Facebook communities online.