WWE 2K20 Will Feature The Fiend & More As Purchasable DLC
Hot off the trails of one of its biggest pay per view events of the year, SummerSlam was WWE at its best. The event was notable for a number of reasons, however, none are more significant than the debut of Bray Wyatt's new persona. The Fiend finally wrestled its first match against Finn Balor and made an impactful debut. Horror characters in WWE haven't felt this scary since The Undertaker. Capitalizing off of this, the first DLC pack for WWE 2K20 will feature The Fiend and a whole host of additional horror-themed features. This will be part one of the WWE Originals DLCs coming to the game. Check out the photo below and the press release here.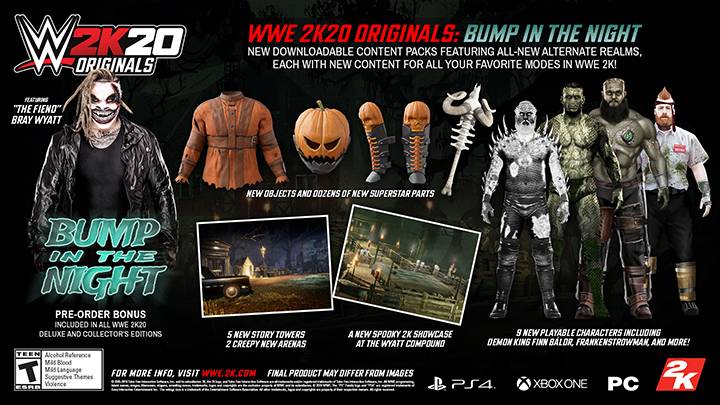 On top of The Fiend's video game debut, the pack will feature Finn Balor's classic Demon King persona, as well as 4 additional horror-themed skins for WWE superstars. Bray Wyatt will also be featured in his "Swampfather" persona. Nikki Cross will be returning after her absence in WWE 2K19 and in her "Twisted" persona. Beyond the new Wrestlers, this pack will feature 5 new Story-driven Arcade Towers and 2 new scary Arenas and additional clothing and gear will be available for custom made Superstars. Given the pack's cohesive horror theme, it seems that all other WWE 2k20 Originals DLC packs will follow suit and have a theme that features new Superstars and new skins for existing superstars. Whatever it may be you can check out WWE 2K20 when it comes out on October 22 on Xbox One, PlayStation 4, and PC.
Are you excited for the Bump in the Night WWE 2K20 Originals pack? What other alternate universe takes on WWE superstars do you want to see? Let us know in the comments below! Be sure to follow us on Twitter, Likes us on Facebook, and check out all the latest news from Don't Feed The Gamers:
Colin is a freelance writer for DFTG with previous bylines at other media outlets such as Twinfinite.