Producers of AMC's Walking Dead Deny Toning Down Violence in Future Episodes
If you haven't watched Season 7 yet, be warned there are spoilers ahead. Anne Hurd, an Executive Producer on AMC's Walking Dead had said earlier this month that the violence on the show would be dampened in future episodes after some people criticized them for the first episode of the season being "too bloodthirsty". She explained that the show is not about showing as much violence as possible, it's about the story.
"We were able to look at the feedback on the level of violence… We did tone it down for episodes we were still filming for later on in the season… This is not a show that is torture porn"
AMC's Walking Dead Showrunner Scott Gimple and Executive Producer/Director Greg Nicotero, had something else to say entirely. Gimple explained that even though the opening scene where Negan bashes two of our beloved characters heads into mush with his barbed-wire covered baseball bat, Lucille, was given harsh feedback for being too over the top, it was done on purpose.
"The violence in the premiere was pronounced for a reason… The awfulness of what happened to the characters was very specific to that episode and the beginning of this whole new story. I don't think like that's the base level of violence that necessarily should be on the show. It should be specific to a story and a purpose, and there was a purpose of traumatizing these characters to a point where maybe they would have been docile for the rest of their lives, which was Negan's point. But I will say again, the violence in the premiere was for a specific narrative purpose and I would never say that that's the baseline amount of violence that we would show on the show. If we're ever going to see something that pronounced, there needs to be a specific narrative purpose for it."
Nicotero, when asked if the show would be toned down in future episodes, simply answered, "No". He explained that even if they could go back in time, they still wouldn't change a single thing.
"As brutal as that episode 1 was, it's still part of our storytelling bible, which is what the world is about. I don't think we would ever edit ourselves, and I think — even after looking at that episode 1 again — as tough as it was for people to watch, I don't think we would have done it any differently. I don't think we'll ever pull ourselves back. There is definitely a difference between violence against walkers and human on human violence, but truthfully, we're serving our story."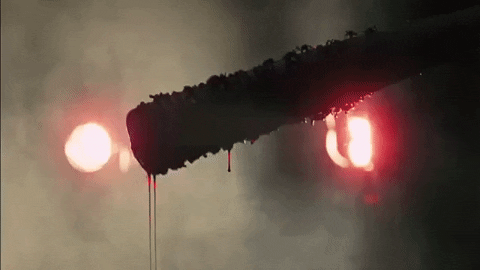 AMC's Walking Dead will return February 12th to finish off season 7. The 8th season will arrive late 2017 and will mark the show's 100th episode! What do you guys think? Is the show too violent? Let us know your thoughts in the comment section below and follow DFTG on Twitter ya filthy animal!
Our Freelancer Spotlight is a way for our community members to be involved and share what they love with the site! From news, reviews, to cosplay features - it's one of the many ways our community can become even more immersive with DFTG.